A Streamlined Motor Selection Process
A Quick And Innovative Motor Selection Tool
ISL Products has simplified the DC Motor / Gear Motor selection process! The days of flipping through standard catalog pages are over, we're in the digital age! Our engineering and sales team have collaborated to ensure that this new process is as streamlined as possible for our customers. Our Motor Selection Guide takes all of the "searching" out of the motor selection process and ensures you receive the optimal motor solution. Enter your requirements, any value-added features you would like to have, and let our engineers do the work for you. It's 3 Quick Steps and can be completed in less than five minutes!
Key Benefits:
Save Time! Our selection guide is proven to save you at least 10 hours throughout the entire motor selection process.
It allows you to dictate your specific requirements.
It gets our dedicated Applications Engineers involved to assist at any stage during the design process.
You only need to visit one website, this one! Submit your specs and you're done!
Motor Selection Tool     Search Popular Motor Designs
Step 1: Enter Desired Specs
Determine some basic motor / gear motor requirements and enter your desired specifications. There are only 6 fields to complete in this step, all simple drop down menus or fill in boxes. If you need some assistance, there are some helpful tips noted in the sidebar menu or you can hit the LiveChat button at the bottom of the page. For additional design tips, check out our design note section.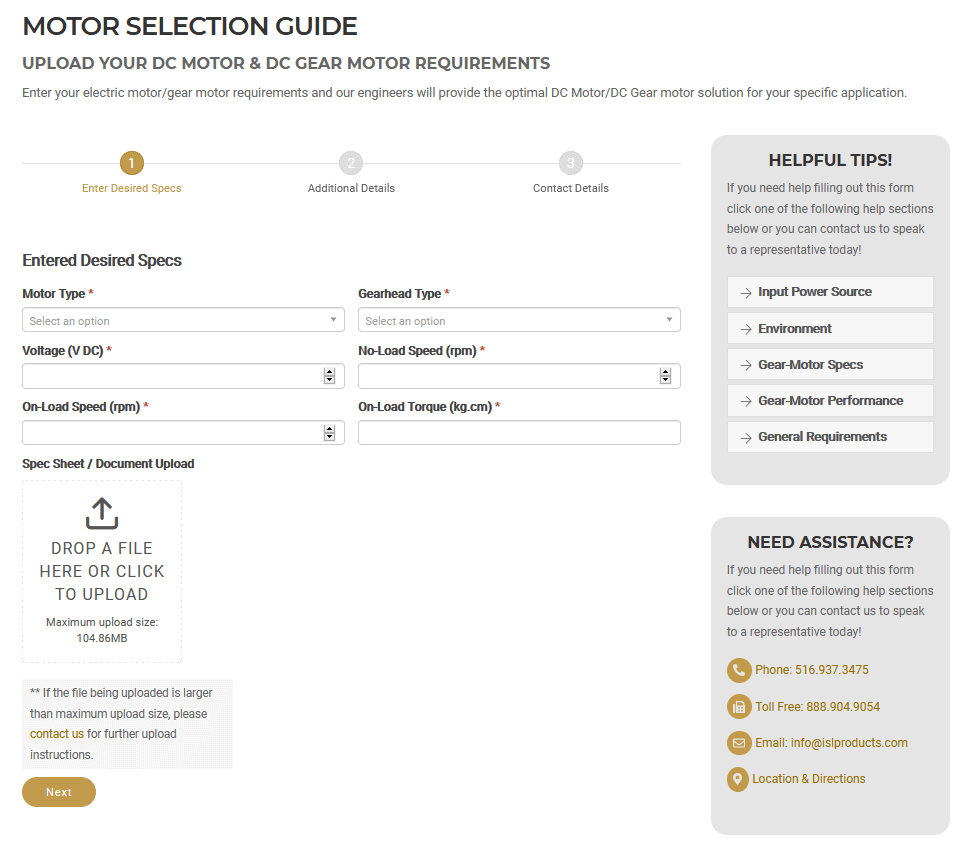 Step 1 Explained:
First let us know what type of motor you are looking for, whether it is brushed, brushless, stepper, etc. and if you will need a gear head attached. We offer Planetary, Spur and Worm gear motors.
Next we'll need your desired input voltage and no-load speed. After that, the most important specs, your on-load speed and torque requirements. These will be the average running conditions that the motor will see during operation.
There is an optional "Spec Upload" section at the end of this step. Here you can simply drag and drop a reference spec sheet to share with our team. For example, if you found a motor spec close to what you need, but not exact, or if you have an incumbent design, this is where you would upload it.
Step 2: Additional Details
During this step you can give us some guidance on your overall size constraints and tell us about your application.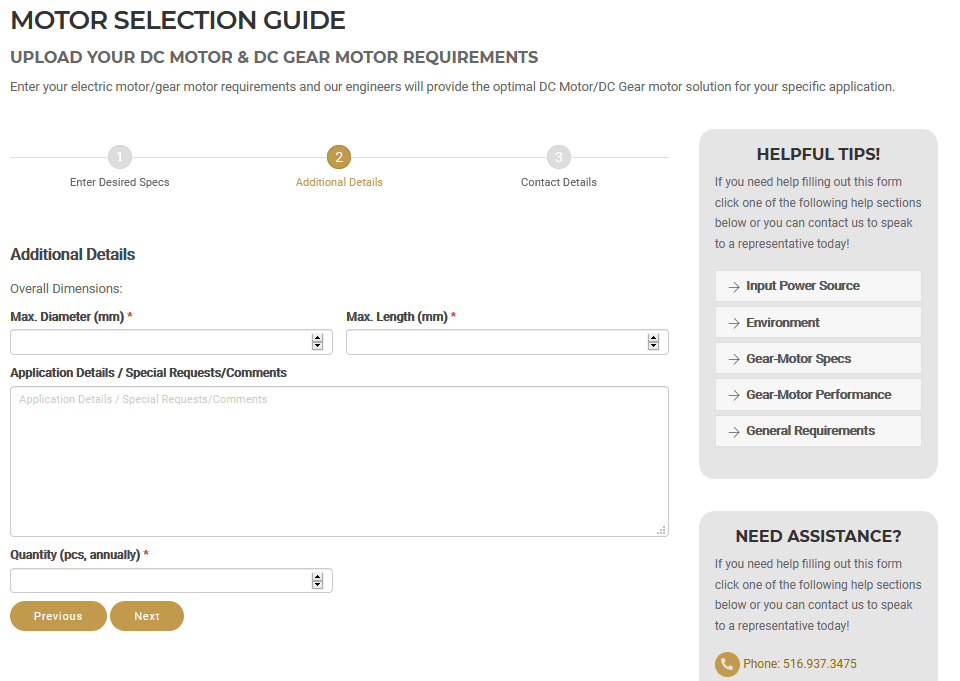 Step 2 Explained:
We only need to know a maximum diameter and length for the size requirement section. That's enough to get us off and running in the right direction.
Next we encourage you to give an overview of your application. It can be vague, we understand the confidentiality associated with many of our customers' projects. The more you are able to share with us though, the more we can help. An understanding of the application is very important when providing a motor solution. If you would prefer that we sign an NDA before discussions, please just let us know.
Additionally, if you have any special requests like value-added features, you can enter them here. Some value-added features include the addition of lead wires and/or connectors, a rear shaft for an encoder, encoder type, etc.
This is also an opportunity to share any special application details like environmental factors or if the device is battery powered in this section as well. Anything you can think of that will help us should go here.
Lastly, let us know what your expected annual usage (EAU) quantity is going to be. Since we are a manufacturer, we have certain minimum production quantities that we need to stick to. We always strive to accommodate our customers with production volumes the best that we can. Don't worry though, we always insist that you test out samples before getting into production.
Step 3: Contact Details
The final step is to simply provide some basic contact information so we can get in touch! Don't worry, your information is safe with us and we won't share it.
Once submitted, a member of our engineering team will contact you to discuss possible solutions based on your request and to learn more about your project. You will hear from a member of our team within 24 hours of your submission, most of the time, its much quicker than that.
That's it, you're all done! You've taken all of the stress and guesswork out of the motor selection process. If you're having any issues, please don't hesitate to contact us directly via email info@islproducts.com or just click on our LiveChat in the bottom corner of the screen! Your ready to get started, click here to jump to the selection guide.